BigEE Shirt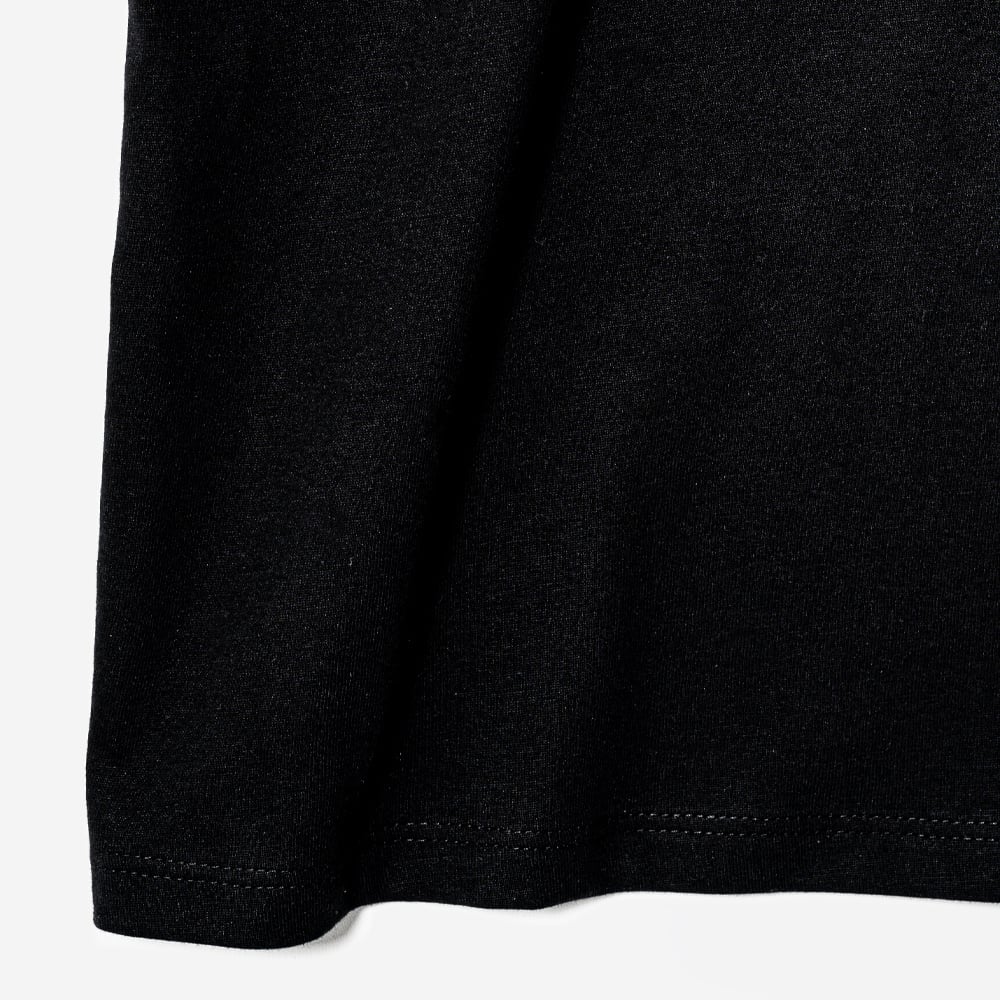 The Entente BigEE shirt is available in black, black and black.
All versions come with an embroidered "Double-E" Entente logo stitched to the front chest. To not lose your long trained composure, the finishing embroidery is kept in - you won't believe it - black.
Perfect cut seems like a washed out catch phrase, but hey, we tested and this fits really sweet.
It is made out of 100% combed organic cotton (155g/m²), manufactured solely using renewable green energy from wind and solar power (including GOTS-certification and Fair-Wear-Foundation approved). So eco friendly, even colorful minds are tempted to pause their shopping break.
Our rolling starlet Eugen stitched each of these logos onto the shirts by himself, not kidding. The 2 Euros he gets for every shirt being sold are probably far below any kind of minimum wage limit, so rad! Big shout-out to the Borklyn Zoo for our first collabo!
___
Das Entente BigEE Shirt gibt es in schwarz, schwarz und schwarz.
Alle Varianten haben unser "Doppel-E" Entente-Logo vorne auf der Brust gestickt. Um dennoch Deine lang einstudierte Contenance zu bewahren ist auch diese Veredelung - kaum zu glauben - schwarz gehalten.
"Perfect cut" klingt nach einer etwas ausgelutschten Marketing-Phrase, aber hey, wir haben einige getestet und das passt echt top.
Das Shirt aus 100% feingekämmter Bio-Baumwolle (155g/m²) wurde ausschliesslich mittels erneuerbarer Energie aus Wind- und Solarkraft hergestellt (beinhaltet GOTS-Richtlinien und Teil der Fair-Wear-Foundation). Sowas von fair-trade, dass selbst farbenfrohe Gemüter ihre Konsumpause unterbrechen möchten.
Unser rollendes Sternchen Eugen hat jedes der Shirts selbst mit dem Logo bestickt, kein Scheiß. Weit unterhalb jeder Mindestlohngrenze sind höchstwahrscheinlich die 2 Euro, die er für jedes verkaufte Shirt bekommt, geil. Danke an den Borklyn Zoo für unsere erste Collabo!
___
Sizing (in cm):
M - width 52 - length 72
L - width 54.5 - length 74
XL - width 57 - length 76
*Alle Preise beinhalten Mehrwertsteuer*-*all prices include VAT*