Larifari Frames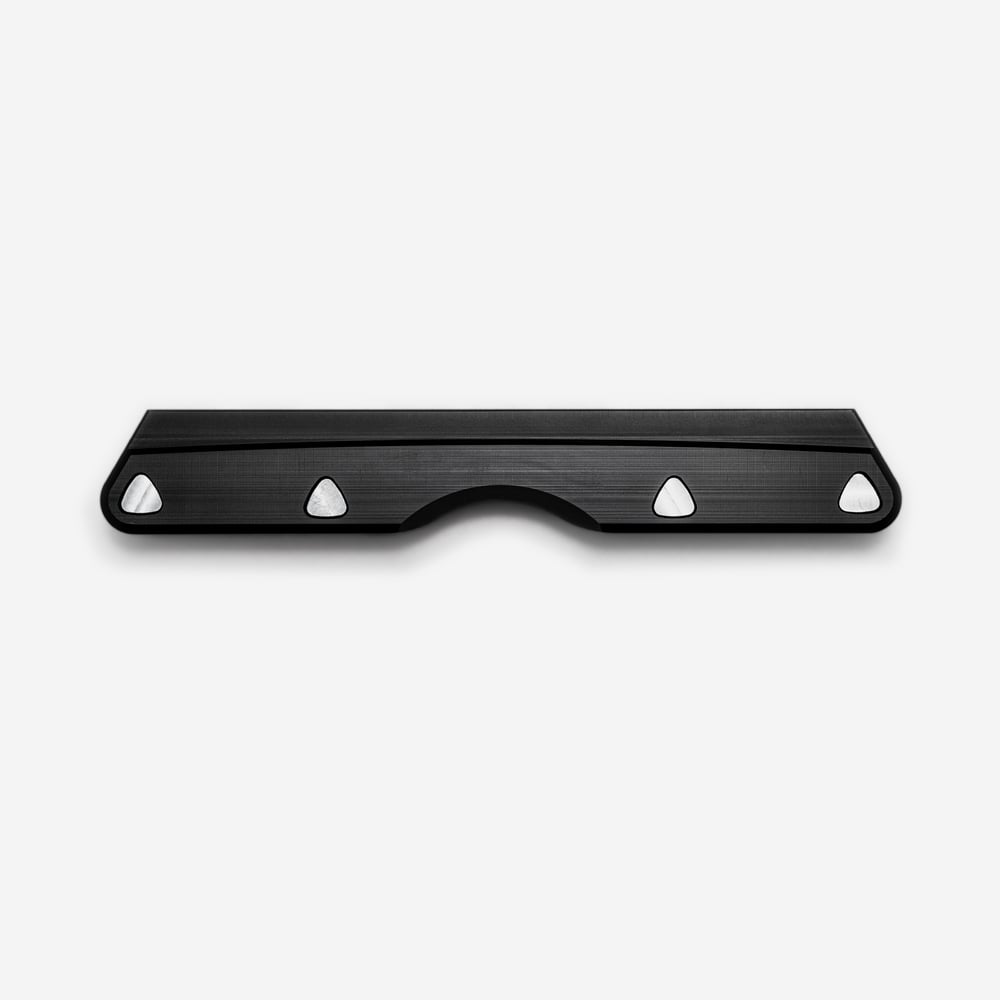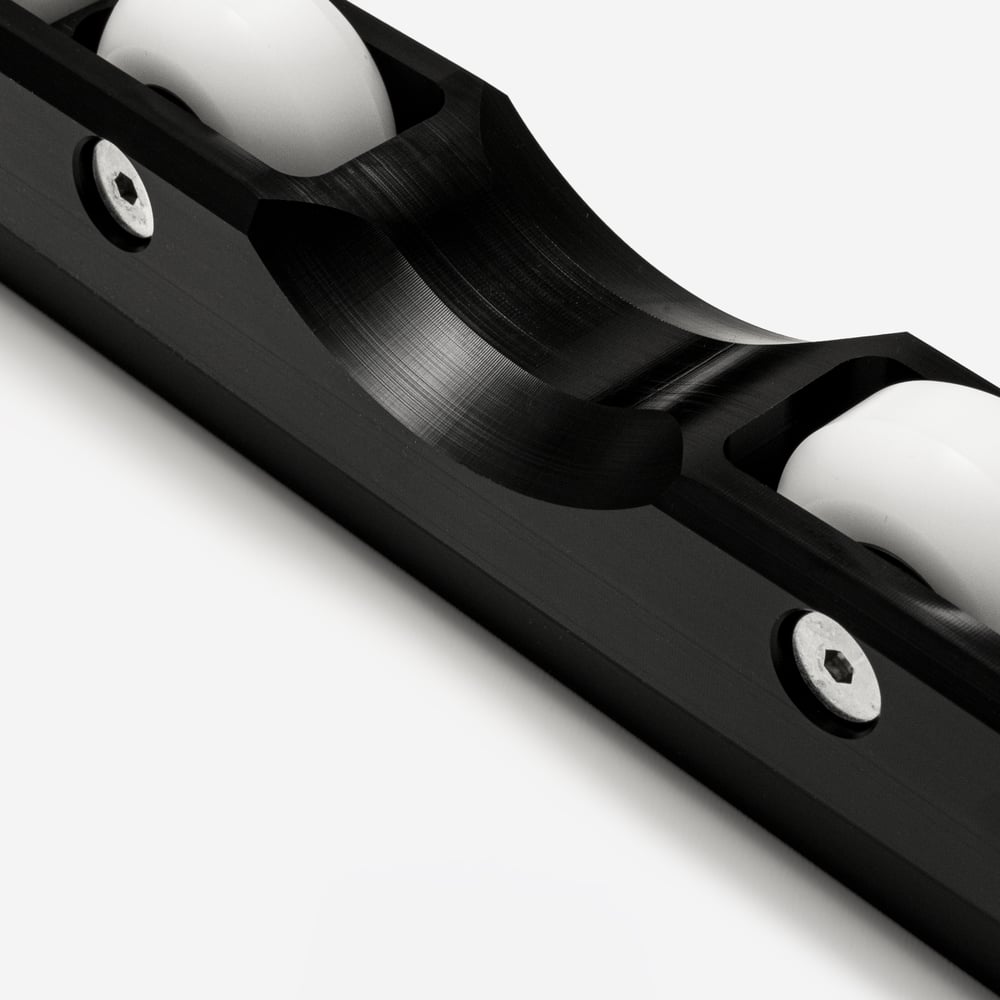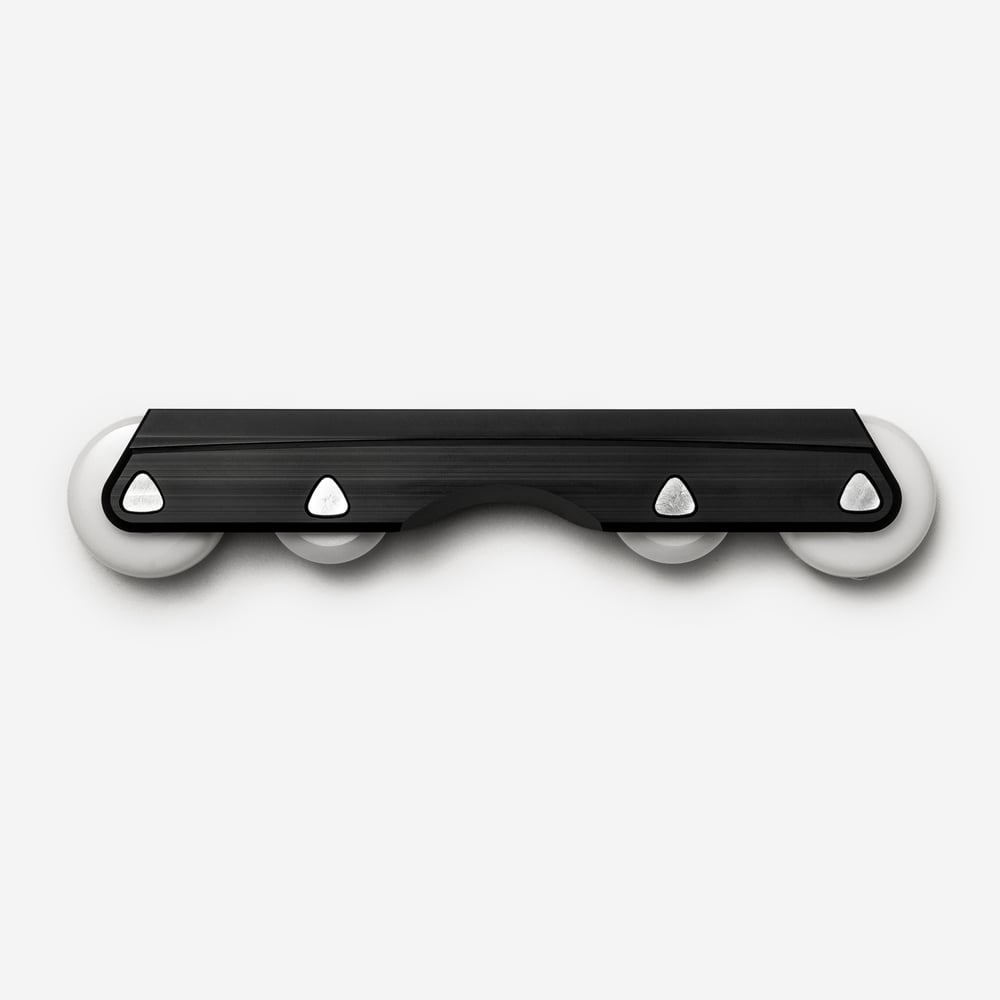 Hallo Larifari!
The Entente LARIFARI frame yelps grinder blading: a UFS frame, 100% optimised for anti rocker, CNC milled out of the perfect material, designed and manufactured under fair conditions in Bavaria, Germany. Sauber!
Key features:
A dedicated anti rocker shape, a minimal height, beefed up walls, sturdy inner construction, precisely crafted aluminum parts, premium material quality.
LARIFARI TECH INFOS:
Height:
Maximum control on minimum ride height. 61.5mm total height when riding 60mm diameter outer wheels. It does not get much lower than that.
Shape:
The anti-only groove shape eliminates the usually annoying edge between the end of the groove and the middle wheel, creating a more harmonised grinding surface with a controlled middle lock. It does feel pretty sweet, yo.
Curved thickened side walls for long lasting bolt protection.
Slightly down-rockered middle wheel bolts for precise grind wheel contact.
Mid walls around the UFS mount add stiffness and maximise power transfer.
Split between middle wheels: 122mm.
Polymer party:
Precisely CNC-cut POM synthetic plastic. Low-wear, long lasting, extremely fast & very rigid. Solid & stable base for an optimised power transfer.
It is more expensive and well worth it.
Manufactured in Bavaria by the superstars of the CNC-scene: AxyzS / Schnitt-Kraft.
Axel axles, Schorsch bolts & frame spacer:
Galvanised 8mm axles and bolts for straightforward and fast wheel changes, using only one allen key.
Perfectly fitting 8mm alu frame spacers will let your wheels roll freely. It sounds so obvious, everyone will do this.
Colorless Technology:
Highly concentrated marketing bla bla about pigments without much function. In black. That's like white, just darker.
Wheel Base Lengths:
S - 252mm (recommended up to EU42/UK8/US9)
L - 276mm (recommended from EU43/UK9/US10)
Maximum Wheel Size:
Outside: 60mm
64mm (with soul plate modification)
Inside: 50mm diameter
Mini bolt bag:
Every package comes with a bag of four high quality 14mm UFS bolts.
Eco bag:
Your LARIFARI is packed in a 2-piece cotton bag. Use it long term to sort out your socks & store fruits.
Including:
2 x Larifari Frame
8 x Axel axles
8 x Schorsch bolts
16 x alu frame spacer
1 x Mini bolt bag
1 x Eco bag
optional + Freeletting Indomitables Grindwheels 45mm (black or white)
_____
Hallo Larifari!
Die Entente LARIFARI-Frame bellt förmlich Grinder Blading: eine UFS-Schiene, zu 100% für Anti-Rocker optimiert, CNC-gefräst aus dem perfekten Material,
entwickelt und hergestellt zu überaus fairen Bedingungen in Bayern. Sauber!
Key-Features:
Ein spezieller Anti-Rocker-Shape, minimale Höhe, aufgepeppelte Seitenwände, robustes Innenleben, präzise Aluminium-Achsen/Spacer, unantastbare Materialqualität.
LARIFARI TECH-INFOS:
Höhe:
Ein Maximum an Kontrolle durch ein Minimum an Höhe. 61,5 mm Gesamthöhe bei 60 mm Rollendurchmesser. Viel niedriger geht's echt nicht.
Shape:
Die Anti-Only-Groove-Shape eliminiert die sonst nervige Kante zwischen dem Groove-Ende und der Grindrolle. Ergebnis ist eine einheitliche Grind-Auflagefläche mit einem kontrollierten Lock zur Mitte hin. Vom Feeling her ein gutes Gefühl.
Kurvig aufgedickten Seitenwände bieten langanhaltenden Schraubenschutz.
Dezent nach unten gerockerte Mittelachsen machen sich im präzisen Grindrollen-Kontakt bemerkbar.
Mittelverstrebungen nah am UFS-Mount geben Extra-Steifigkeit und maximieren die Kraftübertragung.
Abstand zwischen den mittleren Rollen (Split): 122mm.
Polymer-Party:
Präzise CNC-gefräster POM-Kunststoff, verschleißarm, langlebig und extrem schnell. Feste, stabile Basis, somit optimierte Kraftübertragung.
Es kostet mehr und ist es voll und ganz wert. Hergestellt direkt in Bayern von den Superstars der CNC-Szene: AxyzS / Schnitt-Kraft.
Axel-Achsen, Schorsch-Schrauben & Frame-Spacer:
Galvanisierte 8mm-Achsen und Schrauben für unkomplizierten und schnellen Rollenwechsel mit nur einem 6-Kant-Inbus.
Passgenaue 8mm Alu-Frame-Spacer lassen deine Rollen rollen! Klingt so logisch, dass das ja bestimmt alle so machen.
Colorless Technology:
hochgradig verdichtetes Marketing-Blabla für Pigmente ohne Funktion. In schwarz. Das ist wie weiß, nur dunkler.
Länge:
S - 252mm (empfohlen bis Größe EU42/UK8/US9)
L - 276mm (empfohlen ab Größe EU43/UK9/US10)
Maximaler Rollendurchmesser / Rollengröße:
Aussen: 60 mm
64 mm (Soulplate-Abschleif-Spaß notwendig)
Innen: 50 mm
Mini Schrauben Packerl:
Mit dabei ist ein Vierersatz 14 mm-UFS-Schrauben.
Öko-Sack:
Verpackt kommt die LARIFARI in einem zweigeteilten wiederverwendbaren Jutebeutel. Langfristig verwendbar zum Sortieren von Socken oder zur Aufbewahrung von Früchten, das wäre an und Pfirsich auch eine gute Idee.
Lieferumfang:
2 x Larifari Frame
8 x Axel-Achsen
8 x Schorsch-Schrauben
16 x Alu-Frame-Spacer
1 x Mini Schrauben Packerl
1 x Öko-Sack
optional + Freeletting Indomitables Grindwheels in 45 mm (schwarz oder weiß)