Diridari Frames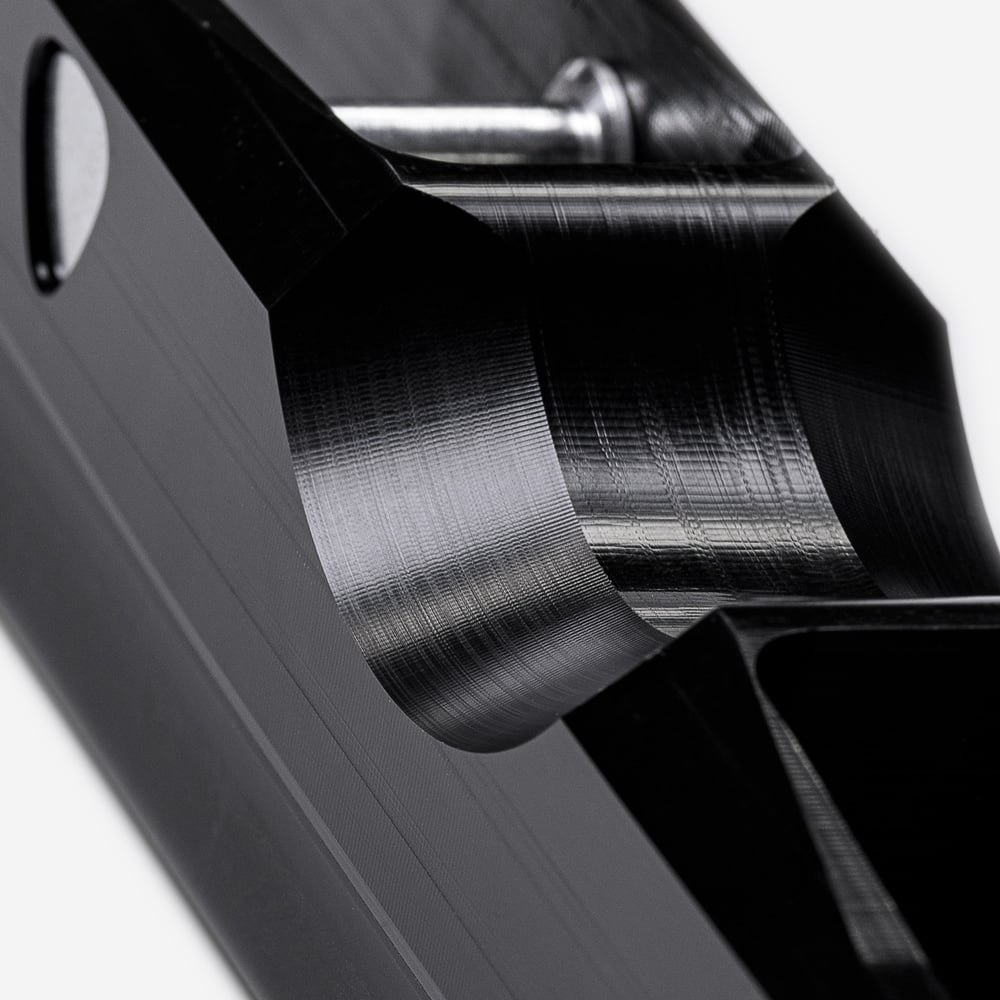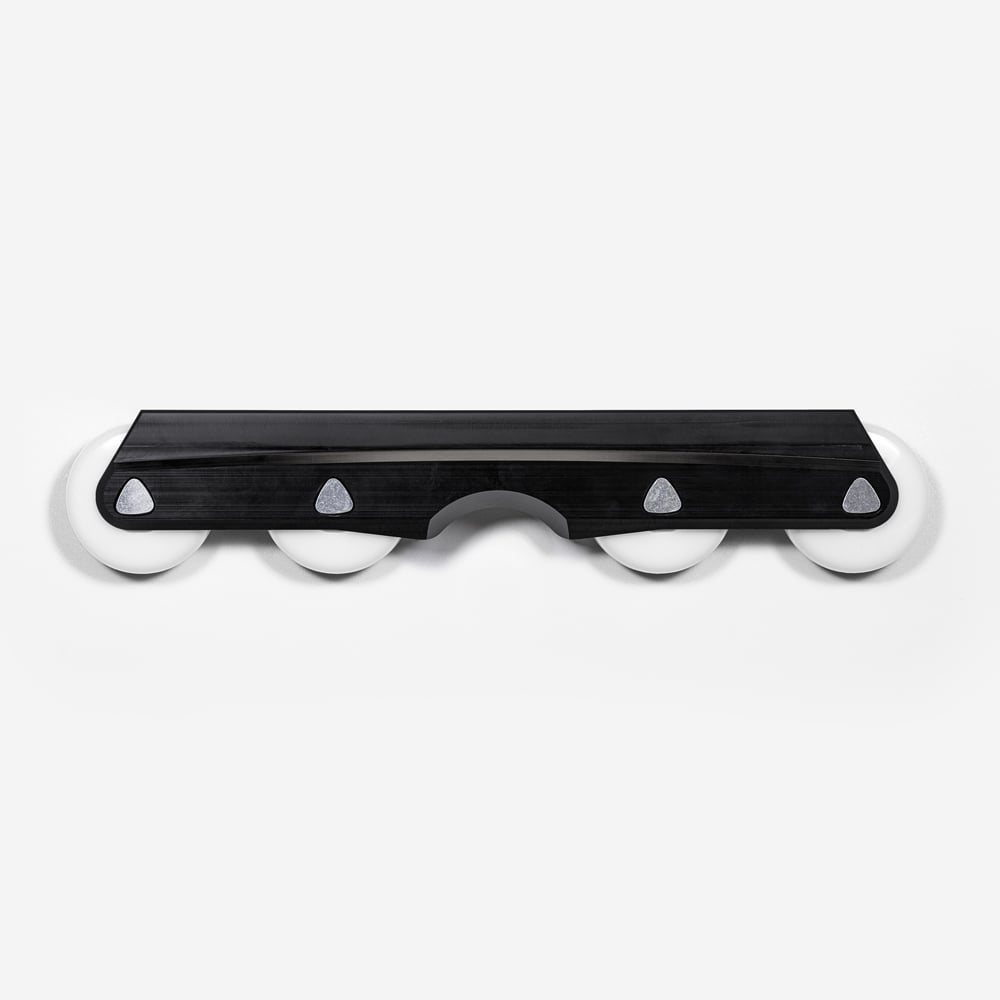 Guten Tag DIRIDARI!
The Entente DIRIDARI frame is our doctoral thesis plus golden effort-stars in skateology: a minimal and 100% functional flat frame, crafted out of the perfect material, made in Germany.
Hey, supergut.
Key features (V1.2):
Ride flat up to 60mm, minimal height, 125mm wide split, beefed up walls, optimized shape, smart groove with wheel bite protection, precisely crafted aluminum parts, premium material quality.
All done by one highly skilled Bavarian master craftsman + optional donations to Michael Witzemann.
DIRIDARI TECH INFOS:
Height:
Less wasted space for more control. 64.5mm total height when riding 60mm diameter wheels. Staying grounded.
Groove:
Not too deep, not too shallow, not too wide, not too narrow. Controlled grinding on cloud 9 without getting shifted towards your hungry middle wheels. We just love that groove!
Split between middle wheels: 125mm.
Carefully flattened out 4mm wheel bite protection to the outside of the groove.
Polymer party:
Precisely CNC-cut POM synthetic plastic. Low-wear, long lasting, extremely fast & very rigid. Solid & stable base for an optimized power transfer.
Our POM is more expensive and it is well worth it.
Manufactured in Bavaria by the superstars of the CNC-scene: AxyzS / Schnitt-Kraft.
Axel axles, Schorsch bolts & frame spacer:
Galvanized 8mm axles and bolts for straightforward and fast wheel changes, using only one allen key.
Perfectly fitting 8mm alu frame spacers will let your wheels roll freely. It sounds so obvious, everyone will do this.
Colorless Technology:
Highly concentrated marketing bla bla about pigments without much function.. In black. That's like white, just darker.
Length:
S - 252mm (recommended up to EU42/UK8/US9)
L - 276mm (recommended from EU43/UK9/US10)
Wheel size setups:
FLAT: max. 60mm (with ScrewUFS bolts)
max. 58mm (with regular fat UFS bolts)
Anti-Rocker: max. 66mm outside
Mini bolt bag:
Every package comes with a bag of four high quality 14mm UFS bolts.
Eco bag:
Your DIRIDARI is packed in a 2-piece cotton bag. Use it long term to sort out your socks & store fruits.
Karma-Polizei:
DIRIDARI is cash. For this frame project, we team up with Michael Witzemann. Witze is a great pal and we dig his skating, so why shouldn't we?
Pick 5 or 10 as a donation and the chosen amount will be going straight to his Austrian baggy pant pockets. Diridari for him, Diridari & good karma for you.
Including:
2 x Diridari Frame
8 x Axel axles
8 x Schorsch bolts
16 x alu frame spacer
1 x Mini bolt bag
1 x Eco bag
optional + Karma-Polizei
_____
Guten Tag DIRIDARI!
Die Entente DIRIDARI-Frame ist unsere Doktorarbeit mit Fleiß-Sternchen der Skateologie: Eine minimalistische und 100% funktionale Flat-Schiene aus dem perfekten Material, made in Germany.
Hey, supergut.
Key-Features:
Fahre Flat mit bis zu 60mm, minimale Höhe, ein 125mm großer Split, aufgepeppelte Seitenwände, ein komplett optimierter Shape, durchdachter Groove mit Wheel-Bite-Protection, präzise hergestellte Aluminium-Achsen/Spacer, fancy 1A-Material-Qualität. Alles von einem überaus talentierten Bayerischen Handwerksmeister + Spendenmöglichkeit für Michael Witzemann.
DIRIDARI TECH-INFOS:
Weniger sinnlos verschwendeter Platz für mehr Kontrolle. 64,5mm Gesamthöhe bei 60mm Rollendurchmesser. Voll am Boden geblieben.
Groove:
Nicht zu tief, nicht zu flach, nicht zu breit, nicht zu schmal. Kontrolliertes Grinden wie im Traum ohne dabei direkt zu den mittleren Rollen geleitet zu werden. Wir lieben das Ding!
Split zwischen den mittleren Rollen: 125mm.
Dezent abflachender 4mm tiefer Wheel-Bite-Schutz nach außen.
Polymer-Party:
Präzise CNC-gefräster POM-Kunststoff, verschleißarm, langlebig und extrem schnell. Feste, stabile Basis, somit optimierte Kraftübertragung.
Es kostet mehr und ist es voll und ganz wert. Hergestellt direkt in Bayern von den Superstars der CNC-Szene: AxyzS / Schnitt-Kraft.
Axel-Achsen, Schorsch-Schrauben & Frame-Spacer:
galvanisierte 8mm Achsen und Schrauben für unkomplizierten und schnellen Rollenwechsel mit nur einem 6-Kant-Inbus.
Passgenaue 8mm Alu-Frame-Spacer lassen deine Rollen rollen! Klingt so logisch, dass das ja bestimmt alle so machen.
Colorless Technology:
hochgradig verdichtetes Marketing-Blabla für Pigmente ohne Funktion. In schwarz. Das ist wie weiß, nur dunkler.
Länge:
S - 252mm (empfohlen bis Größe EU42/UK8/US9)
L - 276mm (empfohlen ab Größe EU43/UK9/US10)
Rollen-Setups:
FLAT: max. 60mm (mit Screw-UFS-Schrauben)
max. 58mm (mit dicken UFS-Schrauben)
Anti-Rocker: max. 66mm außen x max. 60mm innen
Mini Schrauben Packerl:
Mit dabei ist ein Vierersatz 14mm-UFS-Schrauben.
Öko-Sack:
Verpackt kommt DIRIDARI in einem zweigeteilten wiederverwendbaren Jutebeutel. Langfristig verwendbar zum Sortieren von Socken oder zur Aufbewahrung von Früchten, das wäre an und Pfirsich auch eine gute Idee.
Karma-Polizei:
DIRIDARI ist Bares. Wir kooperieren bei der Schiene einfach mal mit Michael Witzemann. Witze ist ein dufter Typ und wir finden sein Skaten gut, also warum nicht.
Wähle 5 oder 10 als Spende und der ausgewählte Betrag wandert direkt in Michael's Baggy-pantige Ösi-Hosentaschen. Diridari für ihn, Diridari & gutes Karma für dich.
Lieferumfang:
2 x Diridari Frame
8 x Axel-Achsen
8 x Schorsch-Schrauben
16 x Alu-Frame-Spacer
1 x Mini Schrauben Packerl
1 x Öko-Sack
optional + Karma-Polizei